We occasionally offer STARTED/trained German Shepherd pups -
Young German Shepherds and adult German Shepherds or can refer you.
Spirited with just the right bit of sass.
Started PUPPIES and young dogs are Super for those ready for an awesome companion,
Home and estate protection or those wanting get a pup past the *just* weaned age Started Puppies/youngsters have a nice heads up with verbal commands, leash work and obedience work. Gun, noise and surface exposures. Crate training, will also kennel, and of course potty training. and house manners are well started and
All work is age and time duration appropriate.
This is not a fully trained dog, but an older started puppy or young dog with a great head start. German Shepherds have natural high scent food herding, prey ,retrieve and other drives intact and desire mental and physical stimulation and FUN time.
Any new dog of any age will require ongoing training though out its life and committed home environment. I am happy to provide training contacts in the area/region you are located.
View dogs below and call for particulars. Website is not always current.
To reserve your dog CALL 541-281-6829 email sherman134@aol.com
IF you are looking and ready for an awesome German Shepherd puppy or youngster CALL for current info and email to request application/inquire form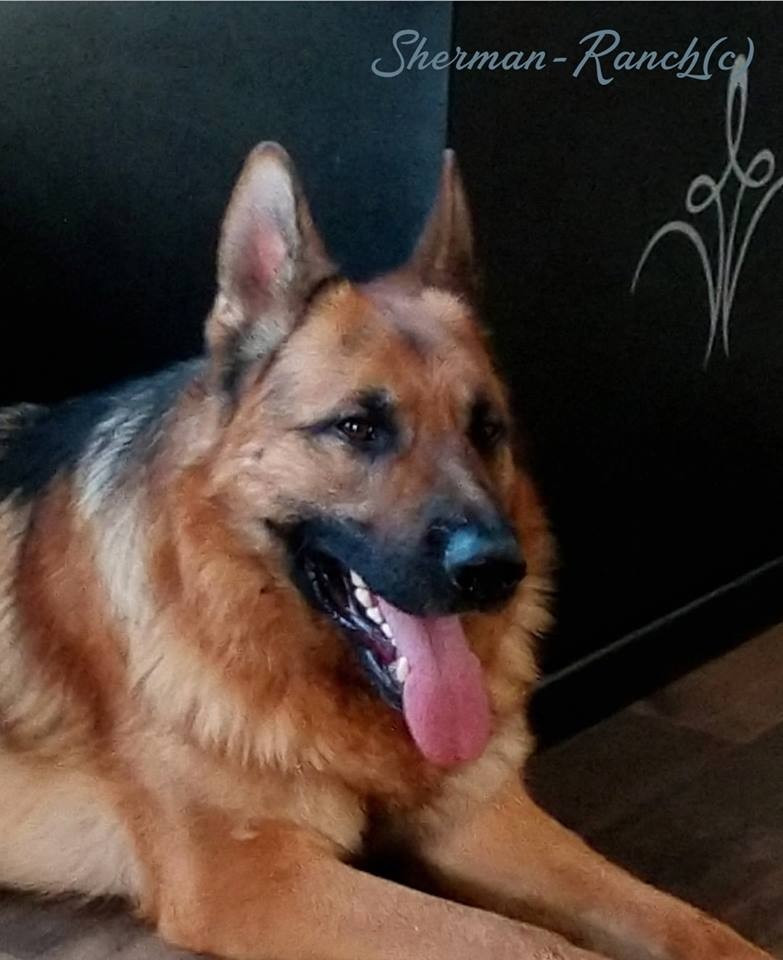 Occasionally AVAILABLE at Sherman-Ranch German Shepherds
this page is not always up to date Call for current
1. Puppies Available Reservations for puppies
If you are interested in a SHERMAN-RANCH German Shepherd request the application and/or send an email with a bit about yourself, what and when you are ready for a great German Shepherd.
Call and email to request your application and info
Prices depend on litter and options such as full or limited reg typically 2300+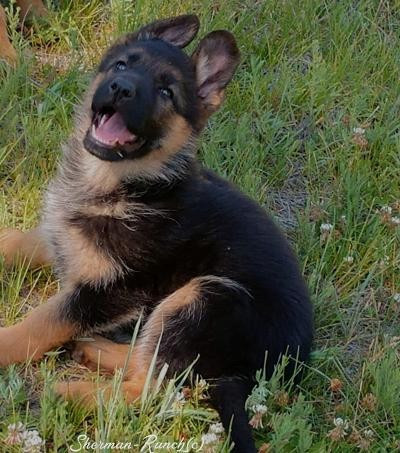 2. Beginning Started pups are sometimes available. They begin on a normal start some ex[osure to crate training and other age appropriate and focus level beginnings. Started puppies are only puppies that have been here since birth. This by no means a fully trained dog but a puppy with a little more there. Typically 12 weeks and up Typically for puppies like these 2500- and up+ depending on dog at hand, age etc options etc. CALL with serious interest email for more info and applicationt and add your own text.
3. YOUNG dogs

Robust, Outgoing and FUN loving
Beautiful Robust Good drives and balanced settled in the home.
Good cook and has a fun sense of humor. House cats unknown.
Raised with other big dogs and kids as part of the family.
Understand ALL dogs of all breeds and ages require ongoing training and activities for the life of the dog that obviously change over time. Your first mission with a new dog is crating a bond not enforcing commands SHERMAN-RANCH dogs are only available to lifelong active loving home.
Call CALL us for more info 5900+