~
ALL pups raised with the family and other animals




~

Puppies and dogs are current on shots and
deworming



~

AKC Resgistration



~

Parents of top German Bloodlines & health certified



~

Written sales agreement



~

Daily imprinting and socialization, early stimulous and
conditioning exposure, temperament tested. Gun sure.



~

Crate/ kennel/car exposure and training after weaning



~

Have plenty of open space,exercise and exploring
going on



~

Reared in a clean, productive learning enviorment

~
ALWAYS reared with love and affection

Puppies
at ​
SHERMAN-RANCH

Strong, Sound, Beautiful
German Shepherd Litters
​Trained German Shepherd dogs
​& German Shepherd Stud Service
Confident, upbeat working/show/companions


Schutzhund, German show, search and rescue dogs,herding dogs, protection dogs, and the many venues they excel in.
​ALWAYS

LOVING Life Long family members.
info!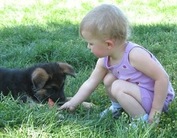 ~call or email for more info~
Fatherd by V SCH3 KKL1 Graf von der Falkenau
Son of V1SCH3 Zekel v Mausepitz​VSCH3KKL1 Bessie v.d. Falkenau
​ VA5(N)SCH3 NUCH Pacco v Nadelhaus and VA SCH3KKL1 Ando v Altenbergerland
Mother Quellie vom Nadelhaus vid Sherman-Ranch *a*1daughter of :
​V SCH KKL1 Jasko v Fredebach ​​son ofVA1(B) VA1(NL) V6 (BSZS'10) Cirrius vom Haus Thalie V1 Pam Vom Holtkämper Hof ​Mother: SCH 1 SCH1 Jolly von der Hohenwarth: VSCHH3 IP3 V SCH Champone vom RitterbergJosi Sandersdorfer Wäldchen and Gloria vom Kirschental!






Interested in a Quality
​ German Shepherds bred for health, type and temperament.?​
​​Awesome puppies NOW available and upcoming.
​Reservations recommended
​
CALL/email for info 541 281-6829
sherman134@aol.com​