~
ALL pups raised with the family and other animals



~

Puppies and dogs are current on shots and
deworming



~

AKC Resgistration



~

Parents of top German Bloodlines & health certified



~

Written sales agreement



~

Daily imprinting and socialization, early stimulous and
conditioning exposure, temperament tested. Gun sure.



~

Crate/ kennel/car exposure and training after weaning



~

Have plenty of open space,exercise and exploring
going on



~

Reared in a clean, productive learning enviorment

~
ALWAYS reared with love and affection




541 281-6829
German Shepherd Puppies

Oregon California


​
SHERMAN-RANCH
Strong, Sound, Beautiful German Bloodline
German Shepherd Puppies, Trained German Shepherd dogs
and German Shepherd Stud Service
German Shepherd breeders in California, german shepherd puppies california kennels, german shepherd breeders idaho, german shepherd puppies for sale idaho, german shepherd breeders in washington, german shepherd pppies for sale Washington kennels,

.
Confident, upbeat working/show/companions


Schutzhund, German show, sar,herding, protection, LOVING family members.


info!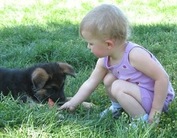 ~ Quality GERMAN Shepherd puppies available
~call or email for more info~




Fatherd by V SCH3 KKL1 Graf von der Falkenau


Son of V1SCH3 Zekel v Mausepitz​VSCH3KKL1 Bessie v.d. Falkenau
​ VA5(N)SCH3 NUCH Pacco v Nadelhaus and VA SCH3KKL1 Ando v Altenbergerland


Mother Quellie vom Nadelhaus vid Sherman-Ranch

daughter of :
​V SCH KKL1 Jasko v Fredebach ​​son ofVA1(B) VA1(NL) V6 (BSZS'10) Cirrius vom Haus Thalie V1 Pam Vom Holtkämper Hof ​Mother: SCH 1 SCH1 Jolly von der Hohenwarth:
V
SCHH3 IP3 V SCH
Champone vom Ritterberg
Josi Sandersdorfer Wäldchen and Gloria vom Kirschental!





WE also offer Super STARTED/Trained Pups/youngsters
CALL for info
Interested in SHERMAN-RANCH German Shepherds or puppy?
If you are ready to commit to a quality bred German bloodline German Shepherd .. Feel free to Send an email request with a bit about yourself
name, location, age group, price range,training level​ and purpose of dog so we may provide you with more information on currently available German Shepherds OR CALL 10 am to 8 pm pst ​